Sundays
Sunday Small Group – Meets in the main educational building from 9:15am to 10:15am.
Wednesday Nights
Wednesday night is a time for worship, discipleship, and building relationships. We meet in the Student Center from 6:30pm to 7:45pm. 
Upcoming Youth Fellowship Events: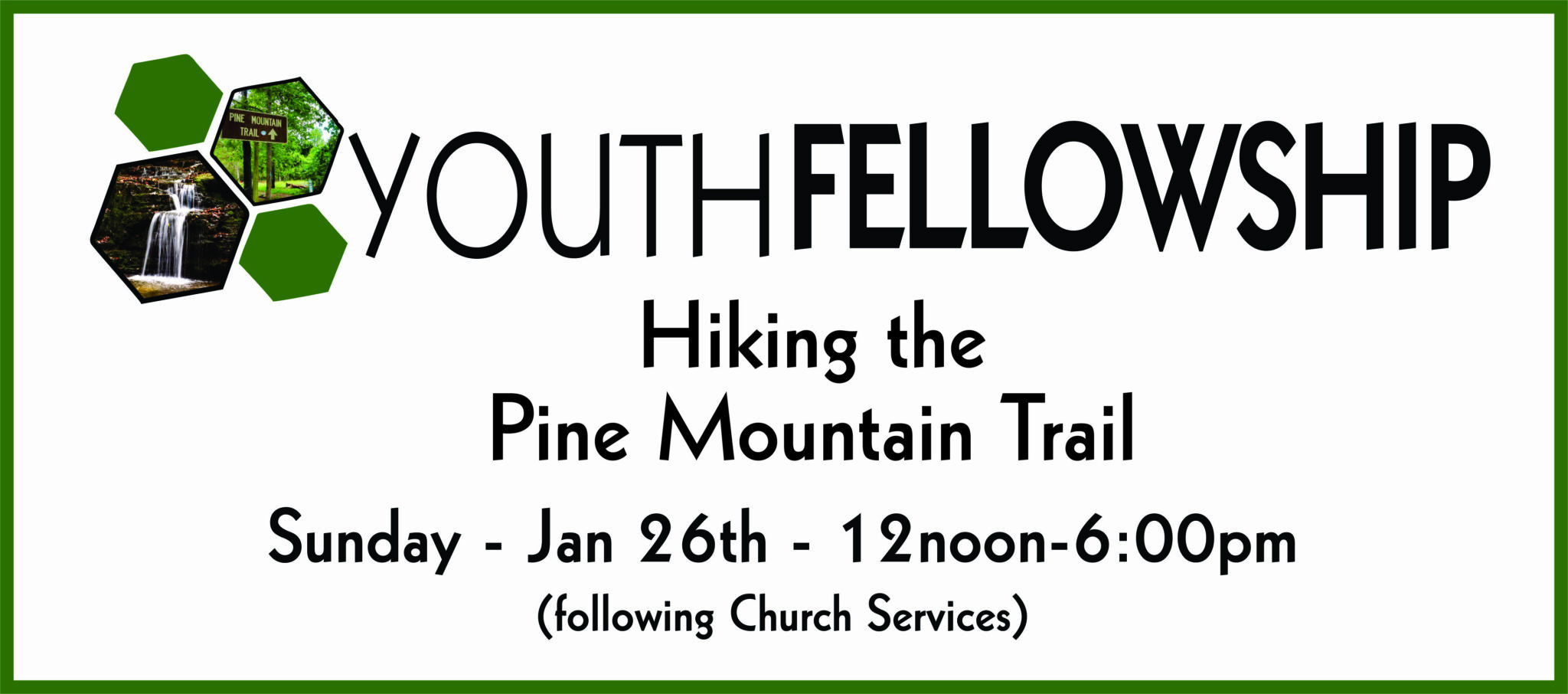 Mark Your Calendars!
Hiking the Pine Mountain Trail
Sunday – Jan 26th
Leaving after Worship Service (12 noon)
Returning at approx. 6:00pm
Youth will be transported in Church Van

Meet at the Student Center to ride the van
Be sure to dress appropriately for the weather and hiking. 
COST: $5/per person Payment is due the day of the event.
Payments can made by using our online giving app, Kiosk, or by giving cash or check (made out to Central Baptist) to Bro. Ben.
Parents, you can download the permission slip today!  Pine-Mtn-Hike Permission Slip
More events to come!
Bible Study Series on Wednesdays
New Bible Study is Here!
"5 Rules for Relationships" beginning Jan 22nd. Check out the projected calendar below:
Jan 22nd – "Rule #1: "Get a Life."
Jan 28th – "Rule #2: "Use Your Brain."
Feb 5th – "Rule #3: "Opposites Don't Always Attract".
Feb 12th – Rule #4: "Sloooooow Down".
Feb 19th – Rule #5: "Don't fall for lies."
Feb 26th – Rule #5: "Don't fall for lies (part 2)."
Opportunities for Service:
We have an opportunity to help during Powerhouse during our 10:30am Sunday Worship service. If anyone is interested in helping, please see Ben and he will get you added to the list to serve To learn more about our Youth program and upcoming events, contact Ben Hale, Student Minister via email – Ben@cbccolumbus.com or text him at  706-977-0197.
Putting ACTION to their FAITH. Team work is what it takes!
The Youth teamed up with Kids Central (children's ministry) and helped bake cookies to share with our neighbors and friends. Just one easy way to love your neighbor! 
"Thou shalt love thy neighbour as thyself. There is none other commandment greater than these." Kids and Teens had a fun night.